Thursday, June 7, 2012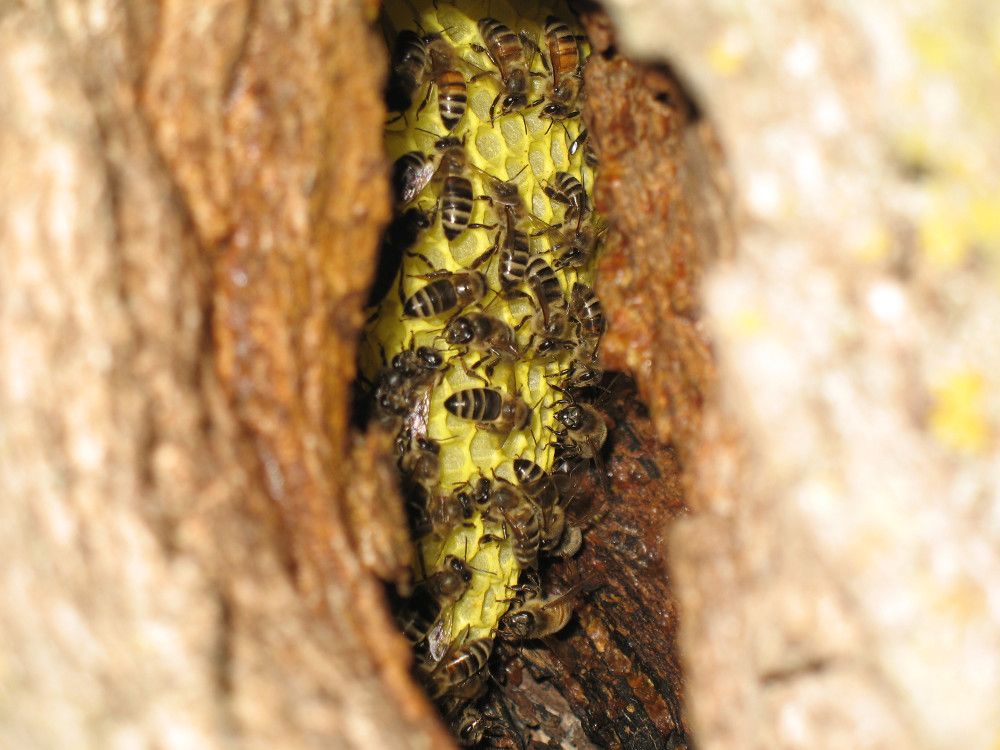 To the left I have a picture of a feral bee tree, these gals are nicely tucked into a rather large tree next to a driveway. I have never seen one of these in person. Most of the feral bees I deal with are in some guys walls, very cool.
Some updates on my apiary. Number #8 swarmed last week, they are a feral hive I had from last year mostly black European bees (in appearance), It was a real treat to deal with such a calm swarm for once, this hive was well stocked so maybe the bees were calm because they were full. The real kicker was in moving / convincing the swarm to move into my hive body I found three queens! One was a nice fat looking one that I found and caught, I placed her in one of my little queen cages to convince the swarm that they wanted to move in, I then placed her inside my hive body (which was right next to the swarm cluster on the ground). Then I started gently combing bees off the cluster using my hand (gloved) and shaking them onto the ground in front of the entrance, once there were enough bees fanning they all started moving into the hive. During this process I found at least two more queens, jet black one and a smaller orange one. The next day I released the trapped queen so she could get to work, when I opened the hive there was the small orange queen on a frame all alone in the far corner away from the cluster of bees. My guess is that this swarm took along a few virgin queens that ended up being rejected.
So far only two of my hives have swarmed (to my knowledge). It was so early it might not even impact the harvest.
Clover is blooming here as well as Trifoil and Birds Vetch, as well as a load of other flowers, clover is the big thing though since we live in cow and grass country.
Number 5 is queen right (took an early nuc from her in may) as well as my bait hives. Both bait hives are doing well, all three of my swarm hives are queen right (from evidence of pollen, in one case and eggs in other two) even number 7 is starting to collect pollen (was a nuc from number 8) all they had was a few swarm cells a couple frames of brood and bees. Altogether this brings the number to 15, I have an extra stand just in case though. Now I just need to finish making a few things lids, quilts, frames ect.
By Sam Smith at 6:06 PM