Tuesday, May 22, 2012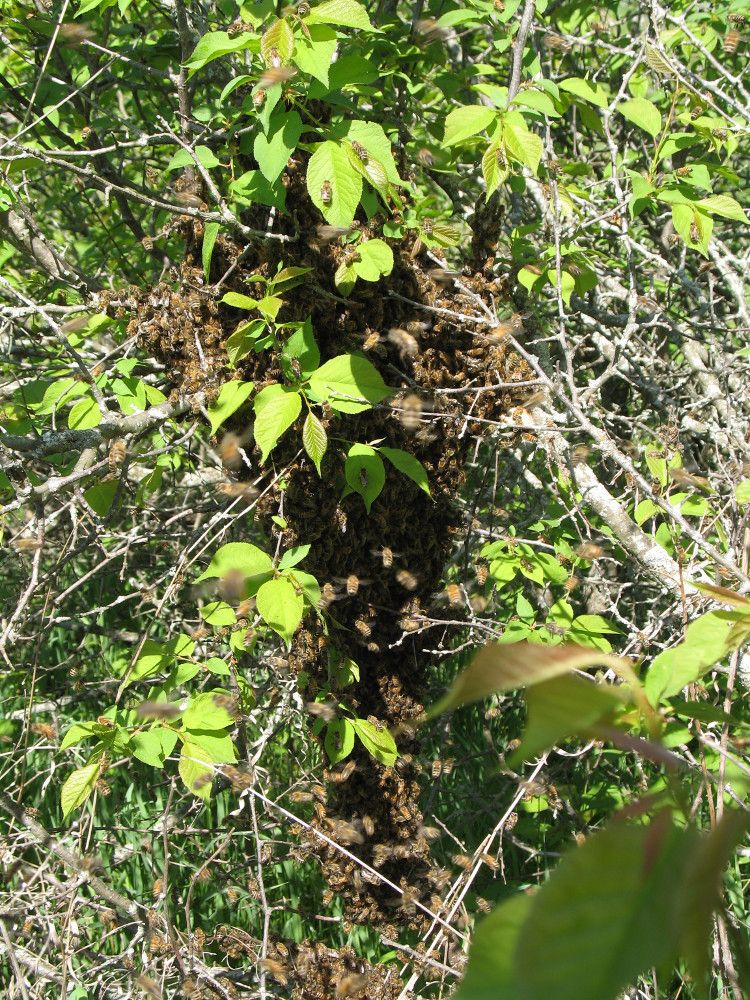 Well yesterday number eight swarmed, I knew it would happen so I was keeping an eye on it for just this reason. As you can see they made landing on this tangle of branches. I probably did not handle it as well as I should have, for one I decided to cut them out of that tangle (I probably should have just knocked them into a cardboard box). Once I finally got them over to the hive they were going in I sprayed them down with water then "woosh" into the hive box they went. Everything went seemingly well, then I checked on them this evening, listening at the entrance I heard nothing so I peeked inside, nothing, they had left either back to the mother hive or off into the wilds when I wasn't watching them. Oh well this early in the year I'm not worried about some of my bees getting away (impacting honey harvest ect).
I checked on my nuc from #5 and the first swarm from one of my italian hives, both are doing well both have eggs, the nuc is almost done a whole new frame from nothing! Amazing. The italian swarm ended up being very small since most of the bees went back to the mother hive, short of moving them over two miles away then back. The only way to handle the bees simply going back to the mother hive would be to move the mother hive and place the new hive in its place this would set the mother hive back some, or I could confine them for 36 hours to incite reorienting flights, in hot weather though they need to be able to get outside the hive.
I made a nuc from Number 8 a couple of days before they swarmed this is how I knew they would swarm soon, lots of swarm cells scads of bees everywhere, they will be hanging around in open places doing nothing when they want to swarm, it almost looks like they are building comb but no comb is being built. Several swarm cells went into the new nuc and the rest stayed in the mother hive, I could not find the queen in all that mess. This hive had a lot of a lot of frames that were joined with comb, the frames were spaced with my old spacing of 1-1/4 I'm using 1-3/8 now since it gives me more room for manipulations and is inline with warre standard, this might decrease the crossing somewhat. It did not help that I made the nuc in the morning of the hottest day of our season so far.
By Sam Smith at 7:00 AM