Wednesday, September 7, 2011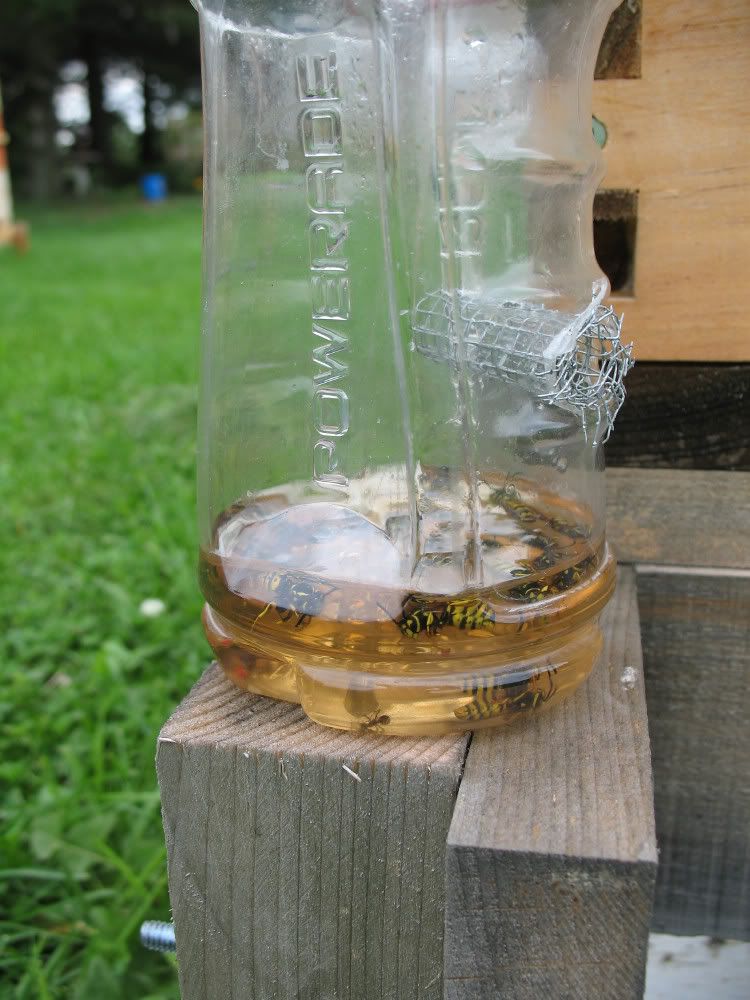 Man I hate wasps, I consider myself a nature lover, but all things in balance! One day I go out to do a visual inspection of my hives (something I do almost every day) I find my smallest hive crawling with wasps. Not by the entrance, rather all those wasps were getting very exited about a tiny leak in my feeder. I must have crushed twenty or thirty of the nasty little things with a brick before giving up on manual control.
I did two things immediately, I closed down the hive entrance with my entrance reducer, the next thing I did was empty the one side of my feeder and put all the sugar water in the other "non-leaky" side.
That was a few days ago and the wasp numbers are slowly coming down, I'm not sure if they are giving up or I have actually killed that many.
I also put up a few home-made wasp traps, we had a can of beer it the cupboard for a couple years now so I tried this as a wasp lure, works fairly well no bees are in the traps I guess they are puritans, wasps like getting drunk though. My trap design isn't very efficient though so I'll pick up some traps at the hardware store and see if they fair better. So far my bees are able to keep the wasps out. Next year I'm leaving traps up all year long, maybe reduce the number of queens making more wasps. Can you imagine how much trouble an open sugar feeder bucket would cause! Well I found an actual productive use for beer, it kills stuff, slugs too.
On another note I think my bees are getting ready for cooler weather, there is a lot of cappings under a few entrances, it looks like drone capping, usually the queen stops laying drones and workers kill all the baby drones, clean the cells, repurpose them as honey storage then some time later they start kicking out the adult drones. This actually gave hive #2 enough time to get their new queen mated if everything went well, they seem to be picking up a bit now, taking feed ect, so fingers crossed.
By Sam Smith at 10:35 AM