Saturday, June 11, 2011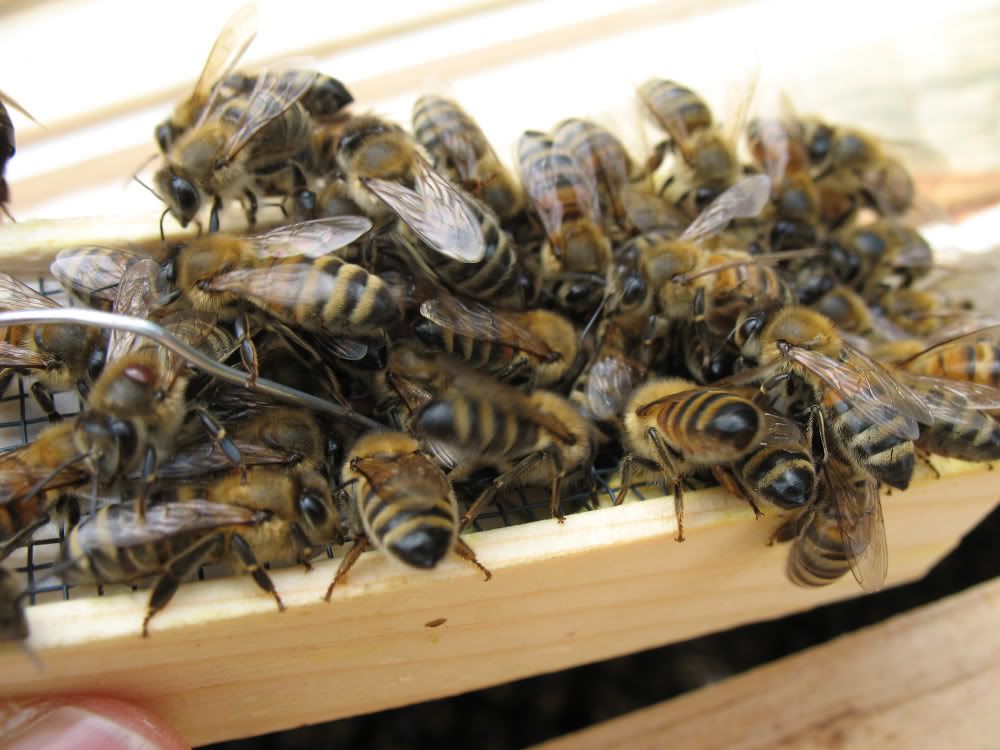 Well royal jelly at least, I let my three queens out of their cages today, their new sisters seemed very happy since they had been working on this ever since I put the cages in. The first one was kinda slow and hungry looking, I hope she makes it, the second was nicely fed and lively and the last queen was a bit thin but went to work right away as though nothing happened. I will check them again in a few days to see if they are laying eggs, I am planning on moving them into warre hives in a couple weeks tops.
I also checked up on hive #5 since they were close to full when I moved them on the 5th, I was surprised to see they had drawn out one whole frame from empty in only a couple days, they also seem to have filled out all of the frame space left over from changing over from the TBH, this means about one third of each frame, thats about 4 frames plus reorienting too their new environment all in about six days. I'm excited about this kind of speed since it seems faster then my old tb hives.
Before I closed up I added a box to the bottom of this hive for expansion, this is supposed to allow them to keep raising brood without cooling off since they are already at the top of their space. In a natural colony bees will build from top down and move their brood nest to new comb as brood hatches, this is how warre hives are run. I plan to run them in a hybrid way, increasing from the bottom for comb renewal and managing their honey space instead of harvesting whole boxs.
I finished building ten lids, bases, stands and quilts, I also fixed an issue I found out about when I was trying to place the inside square of cloth directly on top of the hive. So I'm almost done this part of my bee project, ten hives doesn't look like much on paper but it sure seems to take a lot of work to build, fortunately I love building them, I have even started thinking about building a few hives to sell.
By Sam Smith at 7:14 PM