Friday, September 17, 2010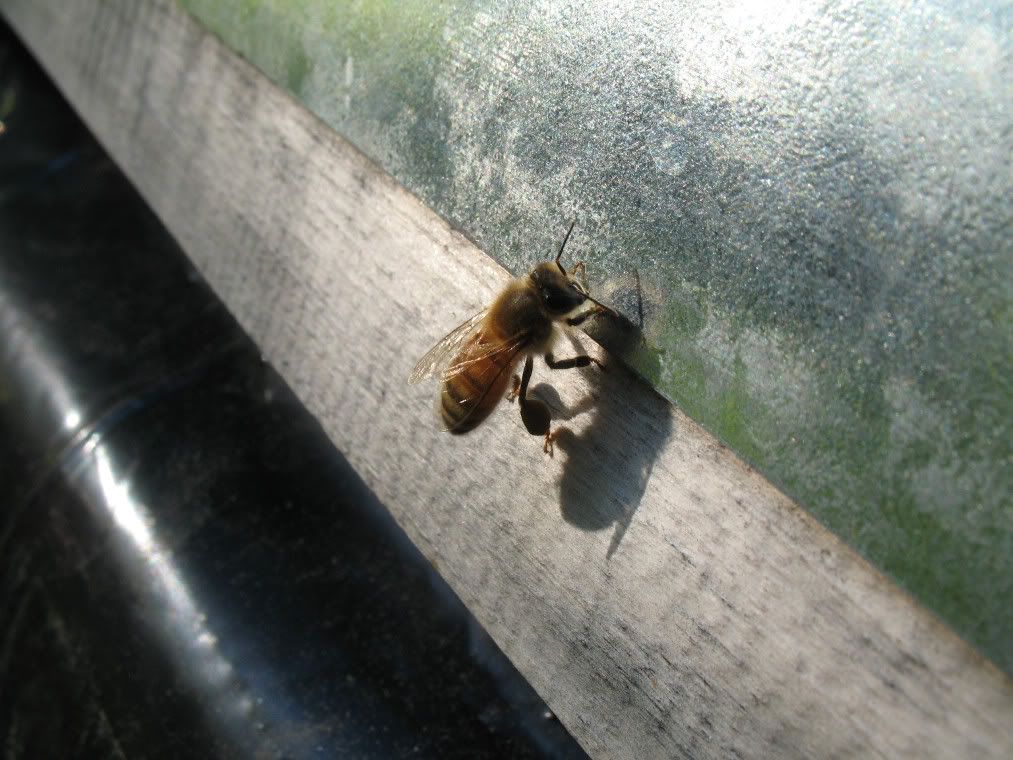 Wow, she actually found a lot of pollen for this time of year, seems to me it is from alfalfa or some kind of clover, that pollen looks muddy green brown. Its comforting to me that they can still forage on something this time of year. This month I am building "Bee Cozys" for the winter, I'm almost positive they would be fine without them but if it helps keep condensation down and keeps the wind off the walls, then they winter better with less stores used, that of course means more honey for me at the end of the season.
I love watching them work on a sunny day, its hypnotic, almost like watching embers from a fire drift around in the night air. I happened to walked by while listening to my mp3 player when "wrong foot forward, by Flook" started to play. Its almost as if I couldn't hear the music they were dancing to until that moment, floating and drifting all in an amazing cosmic swirl so orderly, so ethereal.
On to more earthly matters, for now at any rate. The following depicts what I call my Bee Cozy's, all filled with cedar shavings, the side panels are sew from some two sided indoor garden plastic I had leftover from another project and landscaping cloth, the cloth is against the hive surface to wick away any moisture that may cometh.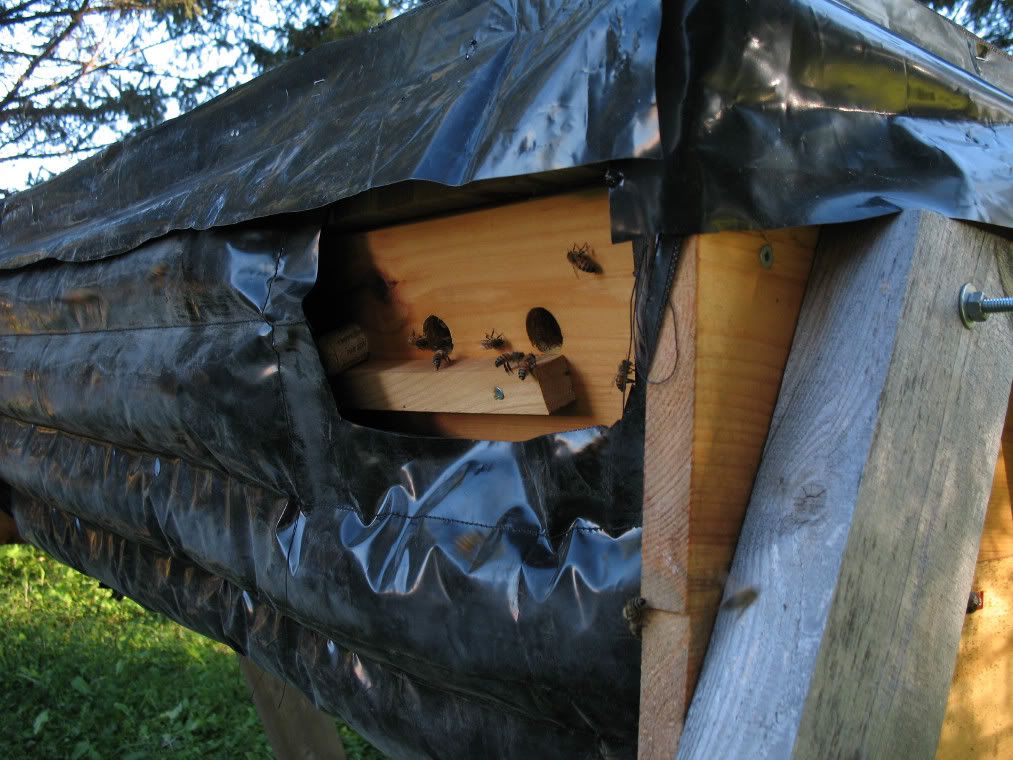 The top is a 3" box that fits inside my lids and rests on the hives top bars filled with shavings, I use the same landscape fabric to cover both open sides of this box, this should provide some insulation plus deal with any moisture from the hive.
This year I expect to loose two hives, I probably have already lost those two since they were queen less at the begining of September, what I find interesting is they are the ones having trouble with robing, my other hives have no perceivable issues with this problem. I wouldn't be surprised if bees look for a week "smelling" hive to rob when the nectar flow is slow, this of course would be the most efficient way to determine the risk involved in such an enterprise without exposing the forager to this same risk. I could still be surprised of course but I wont be disappointed if those hives fail, I want strong bees well adapted to our local environment, plus one of those hives produced a swarm that is doing very well.
I often hear the worry from bee keepers that by catching swarms and letting the bees breed their way you will get swarmy bees. (begin rant) I think this argument is rather amusing since swarming is the species reproductive cycle all bees are from "swarms" whether its a division or an actual swarm doesn't matter. From what I can tell as long as bees have work to do they will do it, that's why you need to rotate empty supers under full ones, so the bees will think they don't have enough stores and keep working, otherwise they would focus more attention on swarming (reproducing). With top bar hives you just make sure they don't have a packed honey section, then the occasional swarm doesn't have a big impact on productivity and in fact would be extremely hard to prevent.
Breading out the swarming instinct is at best (in my opinion) short sighted and at worst damaging. It would be like breading cows that couldn't reproduce on their own, imagine a species so dependant on humans that it can't even reproduce? In most organisms the reproductive cycle is well protected, how do you know you arn't breading out something else as well as swarming? Assuming we know better then God is very short sighted indeed, remember once the world was flat, just because we now know it isn't does not change the fact that we thought it was... (end of rant) Thank you for listening!
By Sam Smith at 8:24 PM

Thursday, September 2, 2010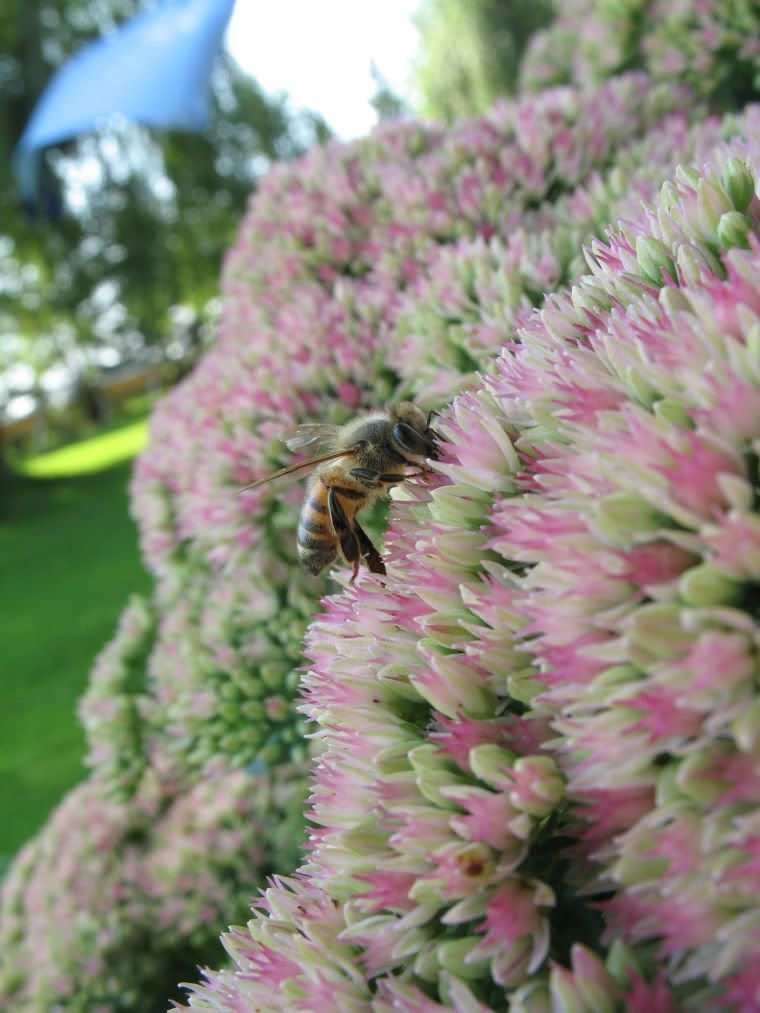 During the last week of august I have been feeding my "light" hives in preparation for winter, I want to stop feeding before the second week of September. The idea is to give them food for the winter but NOT extend their brood cycle past when they would normally start slowing down for winter. Since golden-rod is our last major crop the first week in September is a good time to stop feeding (in my opinion).
Best case I should only loose two hives this year, #7 and #6, they both have some problems with chalk brood, and are NOT QR, I'm not sure if those issues are related, regardless death is part of the cycle of all living organisms. I don't want genetically week bees anyway, as long as I don't loose bees as a result of something I did I'm fine with some losses. My best hives are the ones I caught as swarms, either in bait hives or swarms, they seem to be the most organised, and productive.
I finished building my last three hive bodies for this year, I only needed one so I will have a couple extra for next years inevitable increasing.
#11 (nicknamed: School house bees) Is being very obstinate, I'm hoping this will translate into hardiness. They must have raised two or three queens by now but they rejected all of them, I had to remove a laying worker, then I tried merging a small nuc with this hive, I was hoping they would accept this new queen. Well no. They didn't, the next time I checked they had several queen cells, they might be able to mate a queen before winter makes this imposable though.
One thing I have learned this year is how to manage top bar hives. My goal was/is to produce honey, for this purpose (and others) you need the broodnest at the entrance end of your hive with the honey at the other, every year you will also need to introduce new empty bars so the bees can continue to build new comb (comb renewal) this process is vital for the health and ultimately survival of any colony. This comb renewal dovetails well with my first objective, bees will most often (depending on the season, and if QR) use new comb space for brood, so by adding space near the entrance of each hive during the build-up season you will have your broodnest focused at that end, with honey at the other.
My last harvest for this season was again from hive #3, I wasn't expecting much honey this year since I started all my hives from virtually nothing.
When I harvest honey three grades are usually present, comb grade is the whitest purest and best, liquid is from slightly darker comb and comb that has cured honey but isn't caped yet and cooking honey from very dark comb and the residue retrieved after heating the wax to purify and filter. I still get a lot more comb honey from my TBH then would be possible in reusable frame hives, I was thinking of trying some reusable comb for my TBH I would have to build a special extractor first though.
By Sam Smith at 10:51 AM